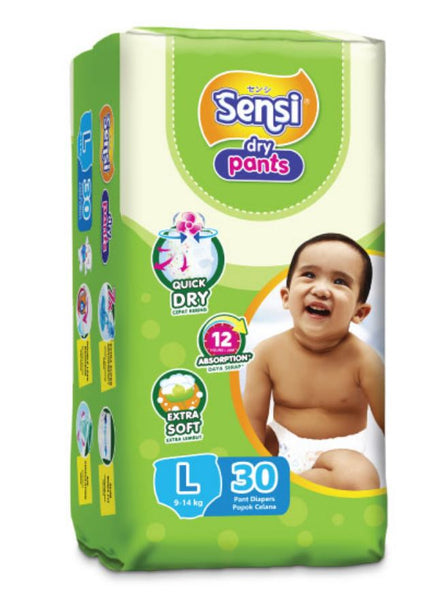 Description:

SENSI Baby Pant Diapers has double leak guards that help to prevent leakage, giving you a peace of mind. With its' elastic waist which gives a comfortable fit and circulation that accelerates air out, providing your baby with long lasting comfort. The super absorbent dry core locks fluids and ensures surface dryness, and the soft, non woven outer cover provides improved comfort and modesty. 
Request For Sample
Please email us at info@diapersdirect.com.sg with your name, shipping address, contactable phone number, product name and the size you requested.
Once we received your request in details, the sample will be sent out via Singpost normal mail within 3 working days. Otherwise, your request will be ignored. Thanks.


Available Sizes: 
Size Small 'S' (3-8 kg)

10 pcs per pack

24 packs per carton

Size Medium 'M' (7-12 kg)

10 pcs per pack

24 packs per carton

Size Large 'L' (9-14 kg) - new packaging

30 pcs per pack

6 packs per carton

Size Extra Large 'XL' (12-17 kg)  

9 pcs per pack

18 packs per carton

Size 'XXL' (15-25 kg)

9 pcs per pack

18 packs per carton