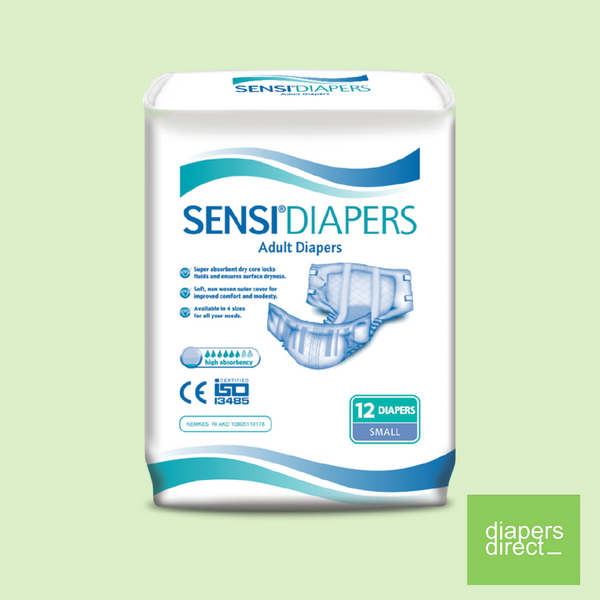 Description:
SENSI Adult Diapers are used by medical institutions, professionals and customers world-wide, serving people with incontinence problems for years and with satisfactory results. Comes with a plethora of helpful features, giving you a peace of mind and allows you to carry out your daily tasks with ease.
Request For Sample
Please email us at info@diapersdirect.com.sg with your name, shipping address, contactable phone number, product name and the size you requested.
Once we received your request in details, the sample will be sent out via Singpost normal mail within 3 working days. Otherwise, your request will be ignored. Thanks.
Specification:
Wetness Indicator

Non-Woven Top Layer with Acquisition Distribution Layer, gives longer lasting comfort and dryness

Refastenable Tape-Tab system with printed tape zone allows multiple adjustments without losing adhesive strength

Standing Cuff guards allows for better fit and prevents leakage

Odour Control

Super Absorbent Gel
Available Sizes:
Size 'S' Pack ( 12pcs per pack )

Suitable for Waist Range: 27-45 Inch

Size 'M' Pack ( 10pcs per pack )

Suitable for Waist Range: 29-47 Inch

Size 'L' Pack ( 10pcs per pack )

Suitable for Waist Range: 33-52 Inch

Size 'XL' Pack ( 8pcs per pack )

Suitable for Waist Range: 35-55 Inch

12 Packs per Carton for all Sizes

Size 'S' Carton ( 144pcs per carton )
Size 'M' Carton ( 120pcs per carton )
Size 'L' Carton ( 120pcs per carton )
Size 'XL' Carton ( 96pcs per carton )
Absorbency Rate Chart (as reference);