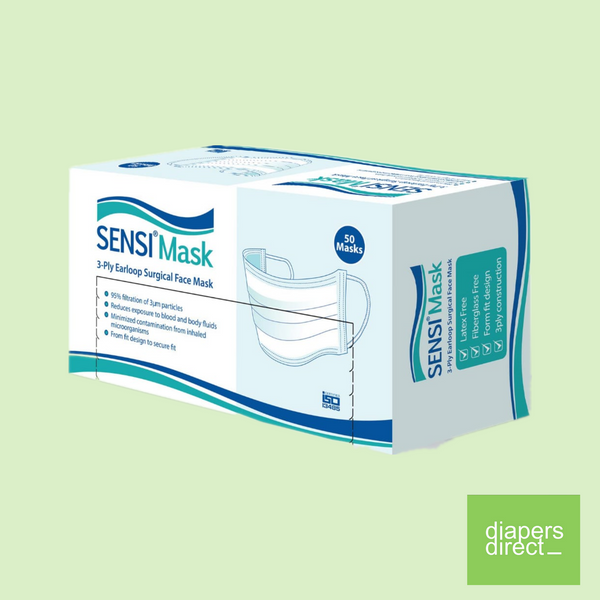 Description:
SENSI products are used by medical professionals and people from around the globe. SENSI 3 Ply Earloop Surgical Face Masks will provide you with disposable protection against inhaled particles and comes with latex free earloop. 
 3ply surgical face mask (blue/ green) Specification:
95% filtration of 3µm particles (17.5x9cm).

Reduces exposure to blood and body fluids.

Minimises contamination from inhaled micro-organism.

Form-fit design for secure fit.

Fibreglass-Free.

Hypoallergenic.

Soft non-latex earloop for extra comfort during long wearing periods.

50 pcs per box.

6 pcs per pack.
Certifications:
SENSI Medical Surgical Masks were tested for and passed the following standards:
ISO 22609:2004
EN 14683:2019+AC:2019 , BFE ≥ 98%
STP0004 Rev 15
Please be aware:
3ply surgical face mask≠3ply disposable (or protective) face mask 
While disposable or protective face masks look similar to surgical face masks. they are made from different materials, have different filtration capabilities and are very different in terms of standards and purposes. For better protection, please use certified and tested Surgical Face Masks.